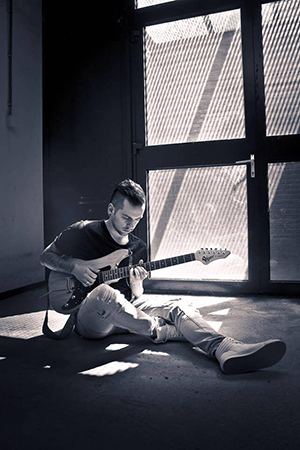 Marc started out playing the guitar at the age of 11. After a few years of hard practise he started out in a coverband.
He played in a lot of different bands, did some tours in the UK with original bands and played on the Shawn Lane memorial show in Memphis in 2013.
He also had the honour to play support shows and jam with many great musicians.
This is a short bio version, because nobody wants to read ten pages of information!
Bands:
- Marc Meesters (obviously)
- This is Jackson
- Ultimate Guns N Roses Tribute (singer)
- Maas & Meesters (playing acoustic rock classics with Doro's guitarist Bas Maas)
- Ann May
Endorsements:
- Roland/Boss (demonstrator)
- Vigier guitars
- Hughes & Kettner
- Chickenpicks
Discography:
- Fallen One - Drawning in Circles
- Scarescone - Psycho
- Scarescone - Insanium
- Faith Healer - Turn up sound
- Marc Meesters - Compromise
'Compromise' album Credits:
Music and lyrics written/arranged by Marc Meesters
Produced by Dennis Geraads
Vocals and guitars: Marc Meesters
Bass guitar: Peter Rovers
Drums: Dennis Leeflang & Dennis Geraads
Lead guitar(solo) on track 'Compromise': Ron 'Bumblefoot' Thal
Recorded, mixed and mastered by Dennis Geraads
Drums on track 2,4,5 recorded at Double Double U Studio Swalmen
Assistant engineer: Sam Janssen
Artwork by Lars Ickenroth
Big thanks to:
Vigier guitars, Roland/Boss, Hughes and Kettner, Chickenpicks, friends and family, and of course the fans for the incredible support!